Listen to MCS: "Thanks Be to God" from Mendelssohn's Elijah performed May, 2017 at Temple Emanuel of Great Neck, NY
MCS 2022 Scholarship Award




A Warm Welcome
In 1947, the Mineola Choral Society was founded by Elwood R. Schwan, who was the chairman of the Music Department at Mineola High School. As we begin our 75th season, we will once again be led by an instructor from the Mineola High School Music Department. We are very excited to announce that Meg Messina, Ed.D., head of the choral program at the school, has joined our choral family as our new Music Director and Conductor.
Welcome aboard, Meg!
A Fond Farewell
After sixteen years as Music Director and Conductor of the Mineola Choral Society, Thomas W. Jones announced his retirement after our last concert. Tom was very instrumental in expanding our choral repertoire and enhancing our performances with full orchestra—key factors in our growth in membership and audience throughout his time with us. We are very grateful for his service, and we wish him the very best in retirement.
Thank you, Tom, for 16 exciting choral seasons!
Come Sing with the Mineola Choral Society
Based in Mineola, the society's membership comes from 31 communities in Nassau, Suffolk and New York City. Our 75th anniversary concert season features Vivaldi's Gloria and Haydn's The Creation, both performed with full orchestra. We currently have openings for tenors and basses with good music skills who are eager to participate in our tradition of choral music excellence. Audition will be held on Wednesday evening, September 7, 2022. To schedule an audition appointment, click here.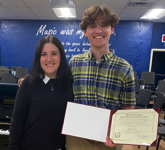 Meg Messina with Award Winner James Keesee.
Each year since 2001, we proudly present the Mineola Choral Society Peter J. Haller Vocal Music Excellence Award to a graduating Mineola High School student who has demonstrated talent in vocal performance and is planning to continue their musical education. The student is selected by the Music Department of Mineola High School. The winner of the $1,500 scholarship is James Keesee.